Milana Vayntrub is the lovely and talented actress that plays Sloane on This Is Us! We also know her as Lily on the AT&T commercials. She was very kind to have an exclusive interview with me for Voice of TV.
Check out our Twitter Page: @ThisIsUs_VoTV and Join our This Is Us Voice of TV Facebook Group!
ALWheaties: We here at Voice Of TV are really big This Is Us fans! I am so very happy to see you on the show as Sloane Sandburg! How did you get the role?
Milana: A good ol' fashion audition.
ALWheaties: What is your favorite thing about playing Sloane? What has been your favorite episode to be in so far?
Milana: Sloane is badass making her dreams come true. Sure, she's hit some road bumps and let her impulses distract her, but we've all been there. The Christmas / Hanukkah episode meant a lot to me for so many reasons. When I was a kid, I learned about Passover from a cartoon called Rugrats, and it really stuck with me. I was excited to potentially teach people the story of Hanukkah. I've actually had a teacher tweet at me saying she's using the scene in her classroom. How cool!
Also, in the episode, we used my grandmother's actual menorah in the Hanukkah dinner scene. She loves bragging about it and I love giving her things to brag about.
ALWheaties: What is the name of the play that Sloane wrote that Kevin (Justin Hartely) wanted to play on Broadway? I read that you also co-wrote a play called, 'La Ninita'. What was it about?
Milana: It's called "Back of an Egg".
La Niñita was kind of an experiment in magical realism about a girl who refused to grow up… based on me.
ALWheaties: Starting out, did you know that your character Sloane's storyline would become bigger? Was the relationship between her and Kevin a surprise?
Milana: Towards the end of filming my first episode, one the writers told me and Janet that after Kevin and Olivia had a falling out, Kevin would turn to Sloan. I've never been more honored to receive someone's sloppy seconds.
ALWheaties: How was it taking Kevin home to celebrate Hanukkah? Have you had any similar situations with your family?
Milana: I'm a lot like Sloane when I'm with my family- we're comfortable in a little bit of mayhem. I love who she is with her family. Even though they're not entirely supportive, she lets her guard down.
ALWheaties: How was it celebrating Christmas with the Pearsons? Are you like us and devastated with what happened to Toby? Was it hard for you to film that scene?
Milana: I loved being with all of them on Christmas. I was blown away by how beautiful their home is. I kept walking around and asking the art department where they got everything from. Seeing Toby fall like that was heart-breaking. What an amazing actor that guy is!
ALWheaties: In team Olivia vs. team Sloane, we are totally team Sloane! Is there anything you can tease us for what's to come in the New Year?
Milana: There is a play to be made. I think that's all I can say.
ALWheaties: I would be remiss if I did not mention how millions of Americans know you as Lily Adams, the AT&T spokeswoman! I absolutely love those commercials that you are in! How many have you filmed for them and do you have a favorite?
Milana: I honestly have no idea how many we've done, but it's been 3 incredible years and the best job in the world. I think my favorite one is with Gordan Ramsey…or James Van Der Beek…or Grant Hill. Please don't make me choose.
ALWheaties: It's hard for me to choose my favorite Lily AT&T commercial, but I love the Bedazzling one. Have you ever bedazzled or do you have another creative artistic outlet?
Milana: I have never bedazzled a thing in my life and most likely won't. But, yeah, I have a lot of creative outlets. I do standup in LA, I paint, I direct. I'm happiest when I get to be creative in some capacity. That may be true for most people…
ALWheaties: Being Lily hasn't been your first foray in commercials. I read you were in Barbie commercials at age 5 and that you were on ER at age 8! How has growing up in the spotlight been for you?
Milana: Ha! I'd hardly call it "the spotlight". When I was little, acting was my extra-curricular activity. Some kids went to soccer practice, I went to auditions. I didn't think there was a difference. It was really smart of my mom to make acting seem rather casual.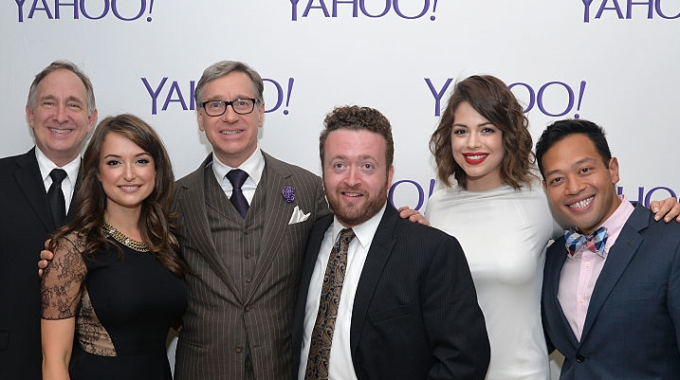 ALWheaties: What was it like to be in the new Ghostbusters movie?
Milana: I am Paul Feig's biggest fan and will forever accept any invitation he sends my way to do anything ever. I'm absolutely okay with this statement being binding.
ALWheaties: You and Kate McKinnon are both graduates of the UCB (Upright Citizens Brigade). Did you know Kate beforehand?
Milana: We met in the makeup trailer and I totally didn't grovel at her feet.
ALWheaties: You have been an editor, writer, producer, creator, activist, comedian, voice-overs, director and actress. What else would you like to tackle in the future?
Milana: I'd like to introduce boxers into the ring.
ALWheaties: I was very impressed to hear about your 'Can't Do Nothing Movement'! Can you tell me and the readers more about it and how we can help out?
Milana: At CantDoNothing.org you can watch a short documentary I made about the Syrian refugees and the war they're escaping from to better understand the situation. Then use the website to find out ways you can make a difference by sharing your time, money, and voice to help with the refugee crisis.
ALWheaties: Many Thanks for your time with us today!
Milana: Thanks for hanging with me!