These are my personal Top 10 shows of 2016. To qualify for my list, the show has to start or continue through 2016. I have already written a best of from the first half of the year so some shows have stayed and some have dropped out. Read the list to find out.
10. Vice Principles (HBO)
I have written an entire season 1 review of this show already so check that out if you want to know more about it. Vice Principals was so hilarious that it takes spot 10 on my list. The best comedy of the year in my opinion starring and created by Danny McBride. It is about two opposite vice principals trying to steal the job of principle of a high school from one another. A must watch. I heavily recommend this.
9. The Night Manager (BBC)
A show that manages to keep its place from my half year top 10 from back in June. A British American co-production about a book that was "impossible" to make into a movie and was developed as a miniseries instead. Premiering this year starring Tom Hiddleston, The Night Manager is about a man who is recruited to be a undercover intelligence operative by the British Government. Featuring typical espionage themes of lies, sex and betrayal The Night Manager does not fail to impress. I would recommend this as it is high quality and only 6 episodes long.
8. Ray Donovan (Showtime)
Ray Donovan is a show that started in the second half of the year and enters the top 10. Continuing through its fourth season Ray Donovan brings back family drama and an interesting character story focused around crime and the dirty world of Los Angeles. It wasn't as strong as the third season but was still very well done. I would recommend this if you enjoyed the other seasons of Ray Donovan.
7. Vinyl (HBO)
This show despite suffering a cancelation was still good enough to retain a place in the top 10 for the year. Vinyl stars Bobby Cannavale who does a splendid job portraying a cocaine addicted Record Company Executive. Produced by Martin Scorsese and Mick Jagger, Vinyl is a unique show, well at least unique for me in the crop of Crime and Police shows that dominate my Library, Vinyl tells the story of the "highs" and lows of the music industry in the 1970s. Featuring the perspectives of people at the top, to scouts that find the talent to the talent its self. Vinyl provided a stylised look at 1970s New York and featured quality acting and music from the era. With its cancellation The show only has one season but it's a damn good one and I would recommend watching it.
6. Daredevil (Netflix)
This show must stay in the top 10. In my opinion the best Superhero TV show on television today and probably ever. Daredevil a Netflix series that returns for its second season. The first season told an origins story for the blind hero and the second season focuses not only on his status as "the hero" of Hell's Kitchen NYC but also introduces Jon Bernthal as the much loved character The Punisher. I love this show and it ranks so on this list because I look forward to watching it weekly more than most shows, and it produces Themes and Tones along with its story which is above any other superhero show.
5. Better Call Saul (AMC)
A successful second season sees Better Call Saul retaining a placement on the list. A spin off featuring everyone's favourite character from Breaking Bad, Saul Goodman or James McGill as he is known in the prequel returned for a second season and like the first is absolute Quality. I heavily recommend the series to someone even if they haven't watched Breaking Bad. In my opinion Better Call Saul is a better show!
4. Game of Thrones (HBO)
Obviously this would stay here on the top 10 list but what can I even say about Game of Thrones? It is undisputable that it is the most watched and most popular TV program in the world! Returning for its 6th Season in 2016 Game of Thrones brings back its 100s of characters and subplots and the return of characters and subplots from years ago! Watch it! Or don't. I enjoyed season 6 which was an improvement over the last season.
3. The Americans (FX)
Always my second show of the year and now has dropped down to third due to the overwhelming quality I have here on the list. for This show, which I always hold in such high esteem always manages to fail to first must say something about it, or at least the show/s I hold above it. The Americans entered its 4th season this year and it continued on its consistent quality that it has held for the past 4 years. Similar to Better Call Saul I would recommend the entire series to somebody, not just an individual season.
2. 11.22.63 (Hulu)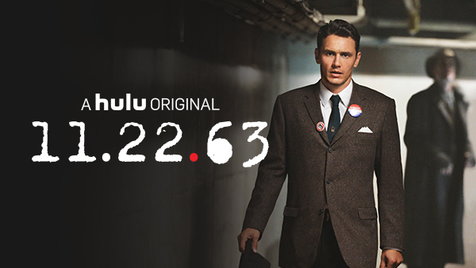 It was almost the best! My Top show of the half year which was really really really good has dropped down to 2nd for the soul reason that the show above it blows everything else this year out of the water. 11.22.63 is a one season adaption of a novel by Stephen King. The show tells the story of a man in 2016 who discovers a portal to 1960. From there he attempts to prevent the Assassination of John F Kennedy on the titular date. This show was absolutely one of the best TV productions I have ever seen and provided me with some of the most Thought Provoking and interesting TV shows I have ever witnessed. Starring James Franco and boasting a class of lesser known and talented actors 11.22.63 Is just spectacular. 9.5/10 almost as good as The Wire or True Detective's season 1 quality! Why are you reading this? You should be watching 11.22.63 if you haven't seen it already!!!!
1. Westworld


The number 1 show of the year. This show from HBO is a new adaption of the 1973 film of the same name. It's basically about a theme park based on the old wild west with its hosts (people and characters) been robots (more like synthetic people or androids, robots that look indistinguishable from humans). The show follows many characters and includes three standout performances from Jeffery Wright, Evan Rachel Wood and Thandie Newton. The show also stars veteran actors Ed Harris and Anthony Hopkins who are both great. You basically see the park from the POV of guests (regular people attending the park) and the people who control and maintain it. I don't want to say anything spoilery so just watch it. It's a 10/10 and a must watch.